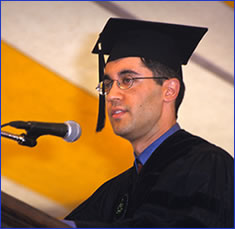 Dr. Neil Ghiso was diagnosed with a brain tumor in the fall of 1997, while a student at Harvard Medical School. Neil underwent surgery, chemotherapy and radiation numerous times. Though fortunate to have had access to many of the brightest medical minds and most advanced technologies in the world, Neil discovered, through his unique journey as a student and a patient, that the most critical component of patient care is compassion.
As Neil stated simply during his commencement speech to the graduating class at Harvard Medical School in 2000, "caring for your patients, just caring, is the most important part of medicine." The Neil Samuel Ghiso Foundation was founded in December of 2001 to promote the cause to which Neil so tirelessly devoted himself.
Neil received his M.D. in June of 2001 and passed away on February 11, 2002.